Trench Technology
Katherm QK
EC tangential fan-assisted convection with small dimensions.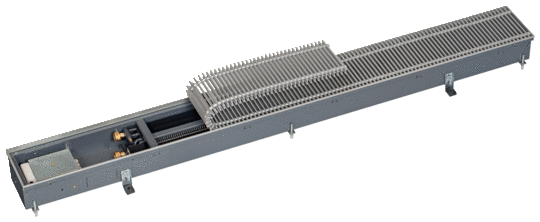 Overview
Work on site is far faster with the Eurokonus valve connection. Other standard features, such as height adjustment feet and load-bearing raised floor brackets, reduce installation time and thus also costs.
Design our standard trenches with short delivery times. You can also rely on our help with project solutions to find the respective solution.
The matching frame for every grille - not a problem for the Katherm QX. The icing on the cake for a perfect look.
Your customers get what you appreciate about Kampmann: individual made-to-measure trenches to fit all façades. Regardless of whether you need mitred corners, curved trenches, column recesses etc.
You have the choice of two widths, twelve lengths, three control options and extensive accessories. With guaranteed DIN EN 16430-compliant outputs.
The coordinated interplay of whisper-quiet EC tangential fan and high-output copper-aluminium convector ensures an optimum indoor climate. This produces a high heat output combined with low sound levels.
We have the right grille for every installation situation – even with curves, angled and slopes.
In addition to our metallic optiline grilles made of aluminium, brass and stainless steel, we also have decorative wood grilles.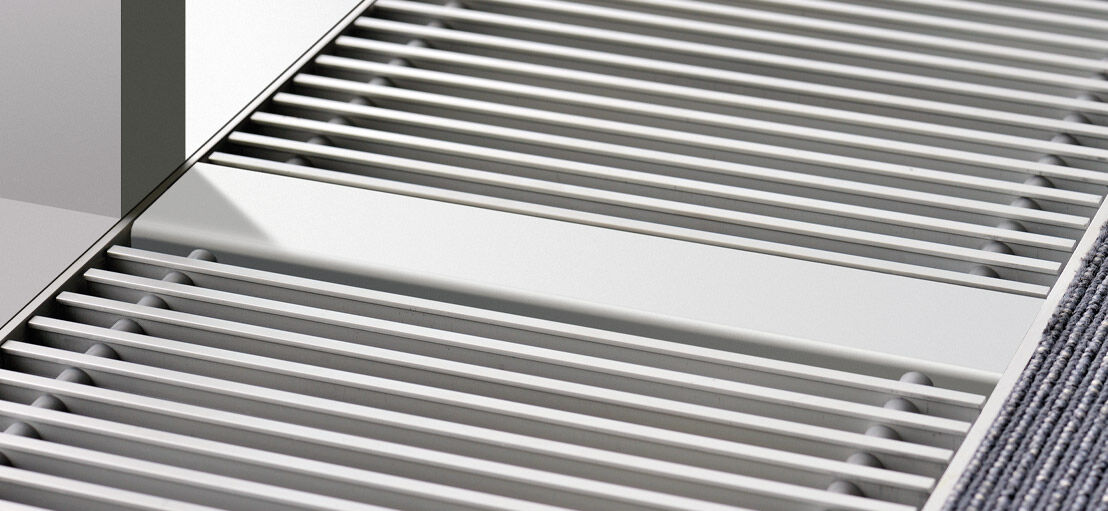 Treated supply air can be fed into rooms through the Katherm supply air module (Length 400 mm)
A proven combination of copper/aluminium
Optimised for airflow and heat transfer
Coated graphite-grey
For uniform convector airflow - resulting in high heat outputs at low sound emissions
As visual cover and protection against dirt ingress
Prevents damage to the convector when screwing in the valves
Optional valves (accessories)
For fast connection
Saves installation time
For quick and safe electrical connection
Saves installation time
For control options: KaControl, -C1 and 230 V electromechanical --00
Including 230/24 V power unit
Removable end panel for ease of connection of trenches
References
Schloss Elmau Retreat, Elmau-Klais
Schloss Elmau Retreat, Elmau-Klais
continue
Worms Cultural Centre, Worms
Downloads
Declarations/Certificates
TÜV Certificate ISO 9001:2008
PDF (132 kB)
EU Declaration of Conformity Katherm trench heating
PDF (840 kB)
Technical catalogues
Katherm QK, QK nano trench heating
PDF (12.6 MB)
Leaflets/Flyers
Spezial Katherm QK
PDF (2.5 MB)
Special Katherm modular system
PDF (1.5 MB)
BIM data (Building Information Modeling)
Installation manuals
Katherm QK trench heating
PDF (5.4 MB)
Katherm QK - Wiring diagrams, control KaControl
PDF (1.8 MB)
Katherm QK - Wiring Diagrams, electromechanical control
PDF (1.2 MB)
Cross-product information
Information sheet trench heating BS EN 16430 UK version
PDF (215 kB)